Active, fun-loving, intelligent, and expressive
Manx
Antonia Cirjak - Last Updated on December 18th, 2021
Things you Should Know about the Manx Cat
The Manx cat first appeared on the Island of Man, off the coast of Britain. In time, the demand for these cats grew, so breeders in the United States and Britain started to breed them. 
However, Manx cats are quite difficult to breed, so they are in high demand, especially if they are show quality cats. Pet quality ones are easier to obtain.
Cat enthusiasts love these cats primarily because of their personalities. This is why people go through the trouble of breeding them despite it being so challenging. 
They are active cats that are intelligent, expressive, and fun-loving.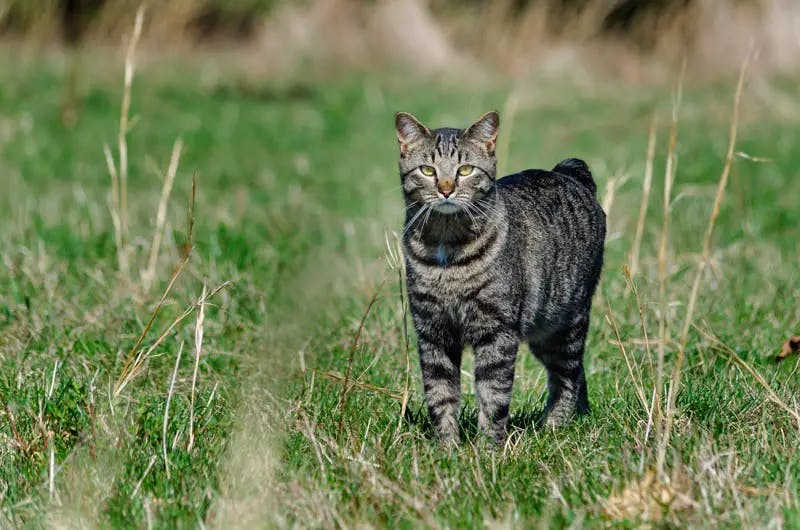 Appearance Matters. What does a Manx look like?
The Manx cat size is usually small to medium, and they have a broad chest, with flat sides and sloping shoulders. Show quality Manx cats are lean and muscular. 
The weight of a Manx cat can be anywhere from 8lbs to 13lbs once it has fully developed. 
There are short- and long-haired Manx cats. However, long-haired Manx cats are usually called Cymrics. The original, short-haired breed has a coat with a dense, soft underlayer.
They can have various tail lengths: rumpy, stumpy, stubby, longy, and a rumpy-riser. These cats have a round head and a long neck. 
These cats are known to be skilled hunters, and in the past, farmers would seek them out to get rid of rodents. They were used on ships for this purpose as well.
Their noses are small, and their eyes are round and extremely expressive. The color of their eyes is usually a variant of yellow or gold. 
If there is one thing the Manx is known for, it is the unique gait that resembles a rabbit's. It is called the "Manx hop." Their hind legs are powerful, and they can jump incredibly high.
No place in your house will be safe from this cat once it starts hopping around.
What colors do the Manx cats come in? 
The Manx has two coat lengths, a short double coat, and a longhaired double coat. The longhaired Manx is usually recognized as a separate breed, however. 
It is called the Cymric, and most registries have accepted it as a different breed. 
In both lengths, the coat can come in a plethora of different colors. 
These are the colors that are the most popular among owners: 
Black
White
Blue
Red
Gray
Tortoiseshell
Calico
Tabby
The colors that are not permitted are the pointed Himalayan pattern, as well as lavender and chocolate.
Why do Manx cats have no tails?
These cats do not have a tail because of a genetic mutation most likely caused by inbreeding on the Isle of Man. A small population of British Shorthairs lived there, and the mutation appeared within the group.
The most sought after Manx cats do not have a tail whatsoever and are considered true or "rumpy" Manx. They have only a small hollow on the place where a tail would have been.
It's all Personal. The Manx Temperament
The Manx cat personality makes them great pets. 
They are incredibly social and friendly. They usually form strong bonds with humans and can get along well with any other pets. This also includes dogs. 
One thing you should note, though, is that they do not like strangers very much.
You can teach Manx cats to fetch quite easily, and they get fascinated by water, as do many other cat breeds. They exhibit "dog-like" behavior and will follow their owners around. They can also learn some simple verbal commands without a problem.
They are also highly intelligent. You should always challenge their brain and keep them entertained and interested. Teach them tricks and give them toys. 
If you decide to get one, you should always pick a kitten from a breeder who raises them at home and from an early age. You can also meet their parents if you are interested in the temperament of the little one.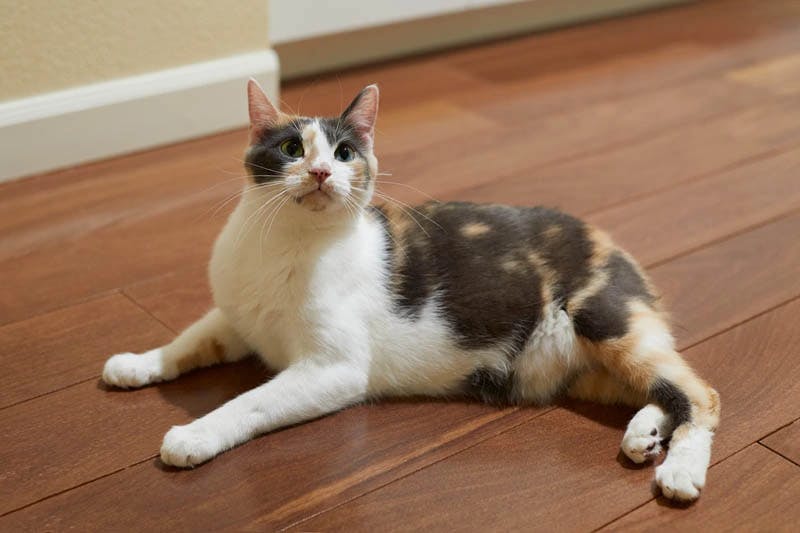 Caring for your Manx 
You generally won't have any issues grooming the Manx coat. You should brush or comb it once or twice a week just to get rid of the dead hair. 
As with some other breeds, you should brush them more often during the spring and fall shedding seasons.
You should also remember to trim their nails every week and clean their ears if you notice they are dirty. Consult your veterinarian about the best pet toothpaste and brush their teeth regularly.
The Manx isn't a hypoallergenic cat, so be careful if you suffer from severe allergies.
The Health and Happiness of your Manx 
The fact that these cats don't have a tail can sometimes create serious issues for them.
Manx Syndrome is a collection of various birth defects. Some of these include a spine that is too short, problems with the bowels, and urinary tract defects. 
This condition affects about 20% of Manx cats on average. It mostly occurs in rumpies, and it shows up while they are quite young, before they turn four months old.
This is why many will wait before they bring a Manx home. If a Manx kitten is diagnosed with this condition, it must be euthanized. 
It is recommended that you wait before taking your kitten home to make sure it doesn't suffer from this syndrome. Avoid getting cats that have trouble walking or simply walk with a stiff gait.
Why do Manx cats hop?
Manx cats hope because they are tailless, they have long hind legs and a short spine. These are not features you would commonly encounter in cats. 
Some geneticists believe that the Manx hop results from skeletal abnormalities related to the Manx gene. Others just think that it is the result of these cats having a short back and long hind legs.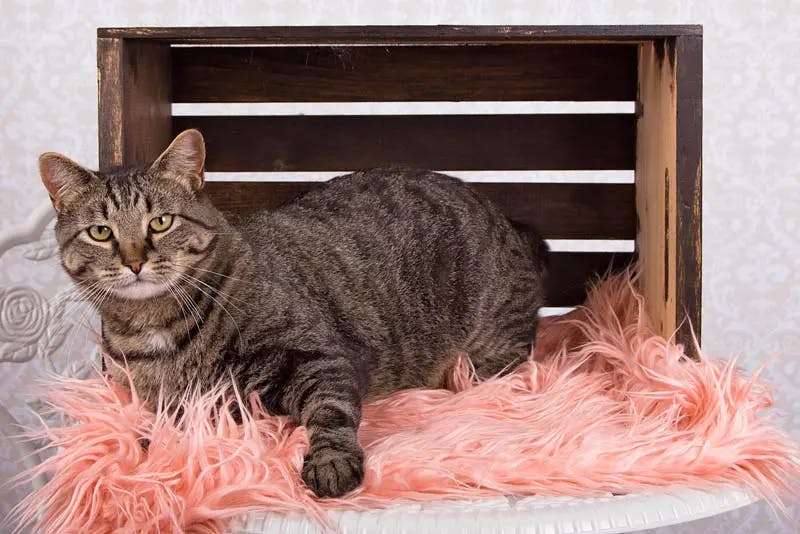 Feline History. Where does the Manx come from?
The Manx cat origin starts on the Isle of Man. There, they were initially called "Stubbin" or "Manks," and they existed on that island for centuries. 
Still, many different stories speculate on how these cats were introduced to the island and lost their tail. One suggests that the Manx was brought there by Phoenician traders who brought it from Japan.
A different one claims that Vikings settlers brought it to the Isle of Man when they colonized it.
Supposedly the cats still had their tails when they arrived. However, due to inbreeding, it is believed that they lost their tails as a spontaneous mutation. This is why the Manx is genetically entirely different from other short-tailed cat breeds.
This island was closed and provided them with a small gene pool. This was a perfect breeding ground on which the dominant gene could be passed down from one generation to the next.
Find a cat breeder near you