About Pets4You
Pets4you.com - A Story from the Early Days of the Internet
Pets4you has been advertising dogs, cats, and many other animals, for more than 25 years now. In fact it was one of the very first websites of its kind for people to advertise their animals, and for pet lovers to find their dream pet online. 
So it is high time to have a look behind the scenes at the people, history and stories that have made pets4you what it is, over the last quarter of a century….
So who better to talk to first than the founder, and until very recently, the CEO of Pets4You, Federico 'Marty' Martinez.
I kept reading about how to improve my business, I read "Think and Grow Rich" which kept saying that I needed to have a "burning desire", I could not figure out what that meant, the book never gave me a direct answer. I was working 17 hours a day, 7 days a week, calling breeders, answering 300 plus calls daily, praying a lot; was almost homeless, stressed, but never gave up. Not until 2013, long after pets4you was thriving, did I realize that I always had that BURNING DESIRE TO SUCCEED.
But far before pets4you was thought of, Marty had a long and fascinating career.
After leaving his hometown of Albuquerque, New Mexico at age 16, within just a few years Marty had joined the US Marine corp, with 2 years spent on the USS Kitty Hawk. From there Marty went into the field of Private Investigation, and even trained as a polygraph reader! Meanwhile he was already preparing for the world of business ownership, with a degree from the University of Arizona in Business Management.
Dissatisfaction in the way the companies he worked for were being run, led him by 1988 to take the leap and start his own business. And that is where the story truly begins…
The Beginnings of Breeders Directory
I had 3 dogs at the time, they were my inspiration. A female smooth haired Dachshund called Cinder, a male Long haired Dachshund called Nimmer and my baby, Jimmini Wiz, a tiny PooPom.
"Looking at the newspaper classifieds I realized there were 5 large categories - real estate, cars for sale, jobs, items for sale and pets for sale. All had referral services except pets for sale." 
And so the big idea came that starting a telephone referral service could work, and when word spread breeders would learn about it and wish to list with it. Thus 'Breeder's Directory' was born.
When I started Breeder's Directory, I had little savings and maxed out 3 credit cards on classified ads. 
It was certainly a big gamble, and with no breeders listed at first, it meant that Marty had to go his own way. He would give phone numbers of breeders he had seen, directly to people who had put out classified ads looking for a specific pet. On Sundays, he would drive 25 miles to a large Newsstand and pick up Newspapers from the LA Times - to the San Francisco Examiner. Then putting his faith in people, he asked them to mention Breeder's Directory when they called the breeder. 
The plan worked, and breeders took notice that he was gaining them customers. And so they would remember Breeder's Directory and list with them for referrals. And when the advertisers sold a pet thanks to being found on Breeder's Directory he depended on honesty, for them to send him his cut, and happily most were honest. Only a few were not.
The Little Puppy starts to grow fast…
With honesty paying off, soon there were 125 breeders listed in the directory, from cat and dog breeders, to reptiles and monkeys! But like all emerging small businesses, the work was hard, with Marty, all by himself, working 7 days a week, 17 hours a day, answering an average of 300 calls every, single day! But breeders kept on signing up to list with his Directory.
The Computer Age Beckons…
Marty is the first to admit that he is not an IT expert. In fact when, in 1995, he called a phone listing under '1-800 Internet', he thought he was actually talking to the guy in charge of the Internet. But he soon knew that the way of the future was online, so he persevered, and this call began the process of Breeder's Directory becoming Pets4You.com.
By the mid to late 90's people were already beginning to transfer their search for pets from the papers to the computer screen, and Marty timed it just right.
For $1000 Marty's first online ad read "Want a Pet?, Any Pet!" with his phone number listed. Just a simple ad, identical to the ones in the newspaper.
But then, with assistance from his son Justin, a site was developed, and classified ads were put up for over 100 breeders. CyberPet.com was the first pet service on the net, but the newly launched Pets4You.com was the second. 
I started this service with hopes that someday breeders would sign up by themselves and I would have a continuous source of pet listings. And it worked!
The team grew, the website developed new techniques so breeders could advertise themselves, and the success was born...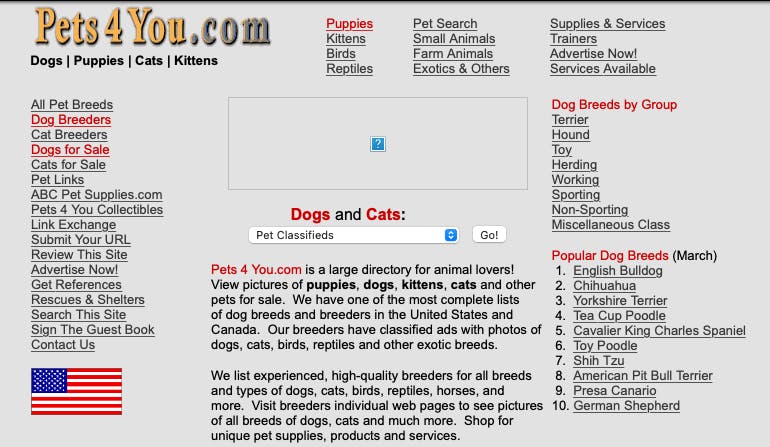 I'll always believe it was God intervening. I was in awe and felt Blessed.
What was your experience with breeders and encouraging them to advertise online?
Most breeders I contacted were very encouraging and excited for my service, and most listed with me. I loved going to the post office and finding checks mailed to me! Once, I was really worried about failing... 
I remember getting a call from an unknown man, never gave his name or reason for calling. He simply stated (I will never forget) "I know you're having a hard time, keep working smart, you're going to be just fine, and said goodbye and hung up". I'll always believe it was God intervening. I was in awe and felt Blessed.
What do you consider the breakthrough moment for pets4you.com? 
By 2002 business was great, I had 5 employees, the site was getting millions of visits without advertising. And by 2010 I had bought office space, and revenue was at its peak.
What have you done with pets4you that makes you the most proud? 
That I kept employees hired and happy, and my clients were happy. And that I created this business from the ground up!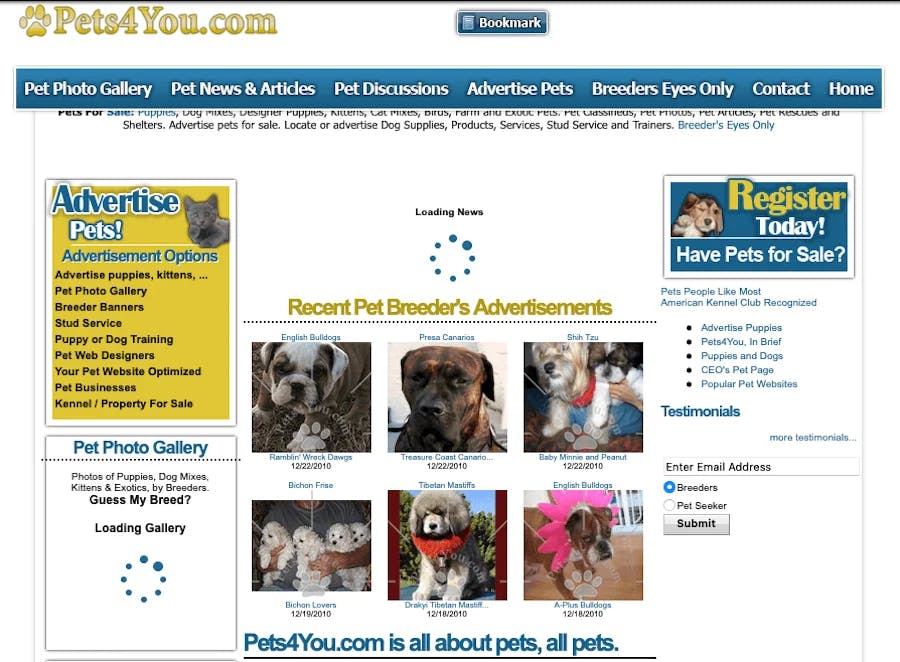 to be countinued...
--------------------
Wuuff, Inc.
7901 4th St N STE 300
Saint Petersburg FL 33702
United States