Pet Events... Fun you can share with your Pet!
Shane Sykes - Last updated on May 19th, 2021
We love our pets, whether cats, dogs or any other animal, and want to have them share in many activities. 
Luckily there are many special events throughout the country that both you and your pet can attend. Most of them cater to dogs, but a few (especially cat shows) also cater to cats.
Dog shows and competitions are obviously the most famous. 
Some of the organizations that host these events, such as the American Kennel Club and the Cat Fanciers Association, have regularly scheduled events and shows….
Dog Shows
Dog shows and events are governed by the American Kennel Club
To be registered with the AKC, a dog and his/her parents, as well as other ancestors in the family "tree" must be purebred, although it doesn't guarantee that the health of any particular dog is good. 
However health, appearance, and temperament are all taken into account when a dog is judged.
Dogs registered with the AKC can compete in AKC events, as can their registered offspring.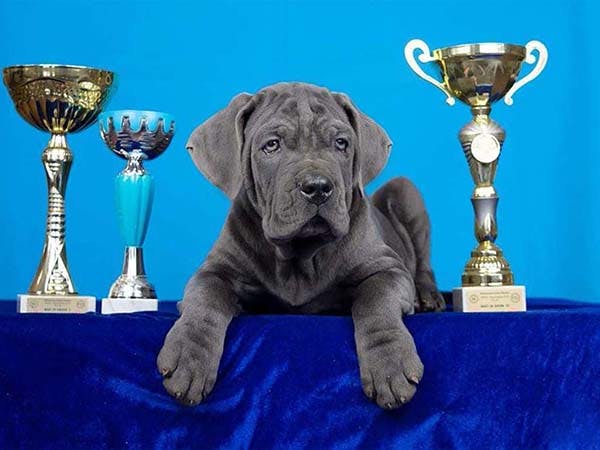 Conformation events
Dog shows done through the AKC are intended to evaluate the "quality" of a particular breed. 
Some shows are "all breed" shows, with over 3000 dogs entered in a single show; they can also be small local "club" shows focusing on a particular breed. 
In these shows, the dogs' "conformation" is evaluated, meaning its overall appearance and structure.
All breed shows
All breed shows show off over 150 breeds of dogs recognized by the AKC. For a current schedule of shows in your area, visit the AKC website.
Specialty shows
Specialty shows are devoted to a single breed and are sponsored either locally or nationally. So whatever breed you have, there is a show out there for them. 
In some cases, specialty shows can be held as a part of an all-breed show, during the same event span.
While all this may sound serious, and many dog owners take it very seriously, dogs can enjoy the activity and attention that dog showing brings.
Florida Classic Cluster of Dog Shows
Hosted in Tampa Bay, Florida, this "Florida's largest dog show" has more than 18,000 entries. Usually held in January, participants are invited to include their dogs for free for some "all breed" (peer right) shows, as well as rally trials and obedience trials. 
Spectators can tour the facilities, meet the dog handlers, and see everything up close and personal.
Other Dog Events
In addition to professional dog shows, there are also "dog events" for humans and dogs to participate in and have fun together.
Hard Dog Race
From Brutal! to Junior; if you are up to the challenge, Hard Dog Race operates a long-distance, obstacle course and race. 
Up to 15 miles in length, Hard Dog Race is not about winning, but about cooperating and having fun with your dog to complete an exciting, adventurous and action-packed journey together, over outdoor terrain.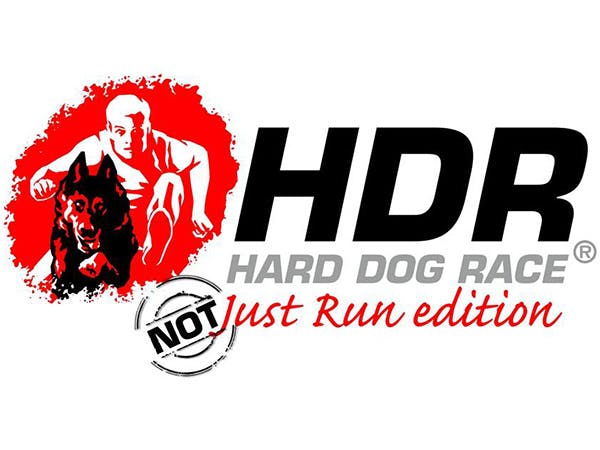 Basset Hound Board Waddle
Hosted in Ocean City, New Jersey, more than 500 Basset Hounds participate in the "Board Waddle." 
Before the Board Waddle itself occurs, enjoy watching the Board Waddle Basset Olympics, and then participate in a picnic. 
Free to spectators, those who walk (or should we say "waddle"?) in the Waddle are asked to collect donations for the rescue organization, the Tri-State Basset Hound Rescue.
Canine Life and Social Skills Class
CLASS (Canine Life and Social Skills) uses positive reinforcement to train humans and canines alike in real life skills, meant to make dog training on, supportive, and positive. 
You'll learn skills that you can apply in a variety of real life situations, and be given an opportunity to show off your dog's skills, too. 
Different levels of CLASS instruction include the "BA" Level, with lessons like a meet and greet, waiting for food, stay and settle, leash walking and attention, and waiting at the door.
At the Masters (MA) level, dogs led to wait in the car, waiting door, learn manners when leashing up, passing by other dogs, loosely squawking and "leave it," and the command "stay."
At the Ph.D. level, loose leash walking, leashing up manners, table manners, attention, and six are taught, among other skills. Six teams (dog and owner) are the maximum allowed for each class.
Barktoberfest
Located in Westfield, Massachusetts and hosted by the rescue organization PoundHounds, Barktoberfest occurs -- you guessed it -- every October, with many doggy and dog lovers' events to enter.
Contents include best dog owner look-alike, best booty wiggle, and more -- and there are other events for dogs and human participants, like dog Reiki sessions. 
Proceeds go to caring for and placing abandoned and rescued dogs in the New England area.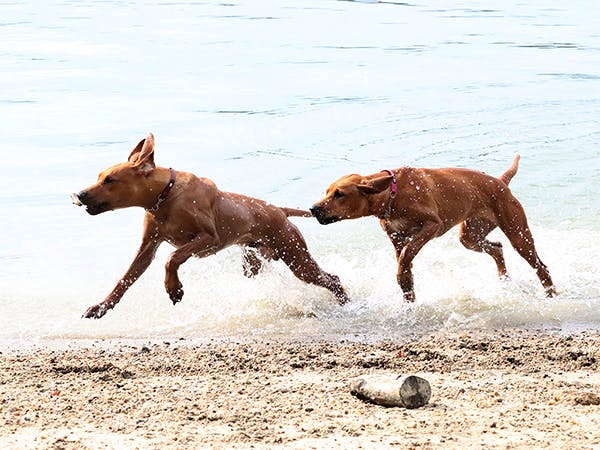 Dog Beaches
Dog-friendly beaches abound throughout the country, but no place in the country may be more dog friendly than San Diego, California. Several beaches allow dogs to be off-leash, including Voltaire Street's Ocean Beach, Coronado's North Beach dog run, and Fiesta Island.
Another place in the country that's particularly dog-friendly is North Carolina's Outer Banks.
Beach lovers abound here, of course, but the city also recognizes that four-legged friends should be included. Although most dogs must usually be leashed to go on the beaches, there may be times when dogs can run free off-season.
If you're going to be traveling somewhere soon and you plan to take your furry family member with you, you can check out pet-friendly options for exercise and outdoor fun, including beaches and parks. 
Go to your destination city's website and check for information or email authorities directly for more information. 
Many cities also advertise dog-friendly hotels that will welcome all members of your family, including your canine friends. Check city websites or do a search for dog-friendly hotels in the area where you'll be staying.
Cat Shows
Pedigreed cat shows are specialty "purebred" shows sanctioned by the Cat Fanciers' Association, Inc. 
As the largest registry of pedigreed breeds, the CFA currently recognizes 42 breeds. About 400 licensed cat shows are held every year. 
Awards are often given for "best-of-breed" for kittens, championship cats, and "premier" cats, with both long and short hair categories.
What's notable about the CFA show is that in addition to purebred show rings, there are also show rings and inclusion categories for adoptable rescue cats and (personal pet) household cats that are not purebred. 
You can go to the CFA site to find a complete schedule of fees and more details.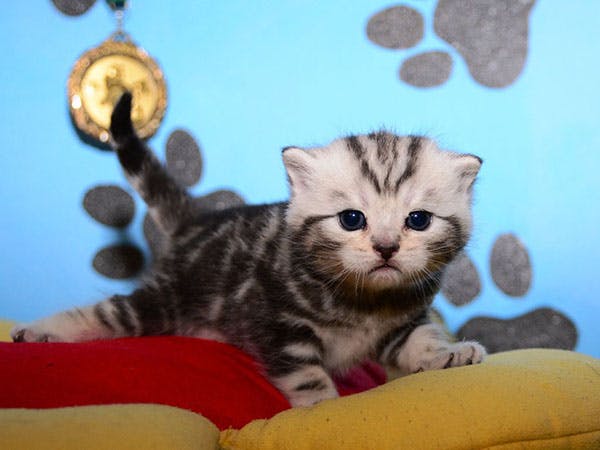 General Pet Events
St. Louis Pet Expo
Located in St. Louis, Missouri, the St. Louis Pet Expo is free to you and your four-legged family members. 
There's a costume contest, nail trims, demonstrations of agility and obedience, and much more. 
Adoptions are available at the Expo, too, meaning that if you want to (or simply can't help yourself), you may come home with a new furry friend. 
In addition to the St. Louis Pet Expo, other similar Expos are held around the country. 
Visit the St. Louis pet Expo website for a schedule to see when one might be near you.
Blessing of the Animals
Go to New York, New York, to the Cathedral Church of Saint John the Divine in Manhattan. 
Here, you can have your dog, cat, or other pet blessed after the service. 
In addition to getting your own pet blessed, you can also see other more exotic pets here, including yaks, if you so please. Pets are blessed after the service by clergy.
And this is not the only event, you can find a Blessing of the Animals right across the US.
The Colorado Fall Charity Horse Show
Free to anyone who wants to come, see a show at and visit the National Western Complex in Denver every September to benefit the Rocky Mountain Horse Rescue. 
Visit the stables to meet riders, trainers and horses in person, and watch quarter horses and many other horses and their riders perform for you.
If you are ready for a dog, but still searching for that perfect puppy then check out the many brilliant breeders on Pets4You.